Languages
Our Stó:lō language is Halq'eméylem. This is a Central Coast Salish language with three dialects or spoken versions: Halq'eméylem, Hun'qumyi'num, and Hul'q'umín'um'. Halq'eméylem is spoken by communities upriver from Vancouver, British Columbia. This includes communities along the Fraser River from Sumas to Yale, and those along the Harrison River.
Hear the pronounciation of our dialect - Halq'eméylem
Our Xwelmexw Names
View Transcript
[Clarence Pennier]: My English name is Clarence Pennier. I carry two Xwelmexw names; one is Xáyslemtel Sq'éwlets and that name was given to me by my cousin Shóyshqwelwhet, Gwen Point. And my other name is Hi:olemtel. And that name was given to me by my cousin, Willie Seymour from Stz'uminus.
[Kwáxen]: Aboriginal name is Kwáxen.
[Móyō]: My name is Pearl, and my Indian name is Móyō.
[TsTsThumNoMit]: My Halkomelem name is TsTsThumNoMit.
[Kupshóye]: Kupshóye. I'm originally named the female version after my papa Ralph, my great-grandpa. His is Kúpsha. And it originally comes from Sts'ailes.
[Hul-Lath-Tul]: Um, my name is Joseph Chapman. I'm from Sq'éwlets First Nation. My Xwelmexw name, which is my Indian name, is Hul-Lath-Tul. It comes from Chilliwack Lake; it was given to me by my father. From the Semáth First Nation.
[Ōltus]: Well my name is, uh, Reg Phillips. My Indian name is Ōltus. My Indian name comes from Harrison Lake. It means "a seal hunter".
[Xá:wlets]:My traditional name is Xá:wlets; It's my great-great-grandfather's name and it was passed down to me I believe in the early 90's. And I share that name with my son, Andy Junior.
[Ōltus]: And the names like Sq'éwlets and Sts'ailes are pronounced a little bit differently than we've known in the past. And I believe those are the right um, the right way to pronounce those names. Like, uh, Sq'éwlets means like the bend in the river. And uh, as we can see, just going down to uh, towards the Fraser River, and Sts'ailes where I was born and raised is um, is uh the beating heart. That's where the Sts'ailes name comes from.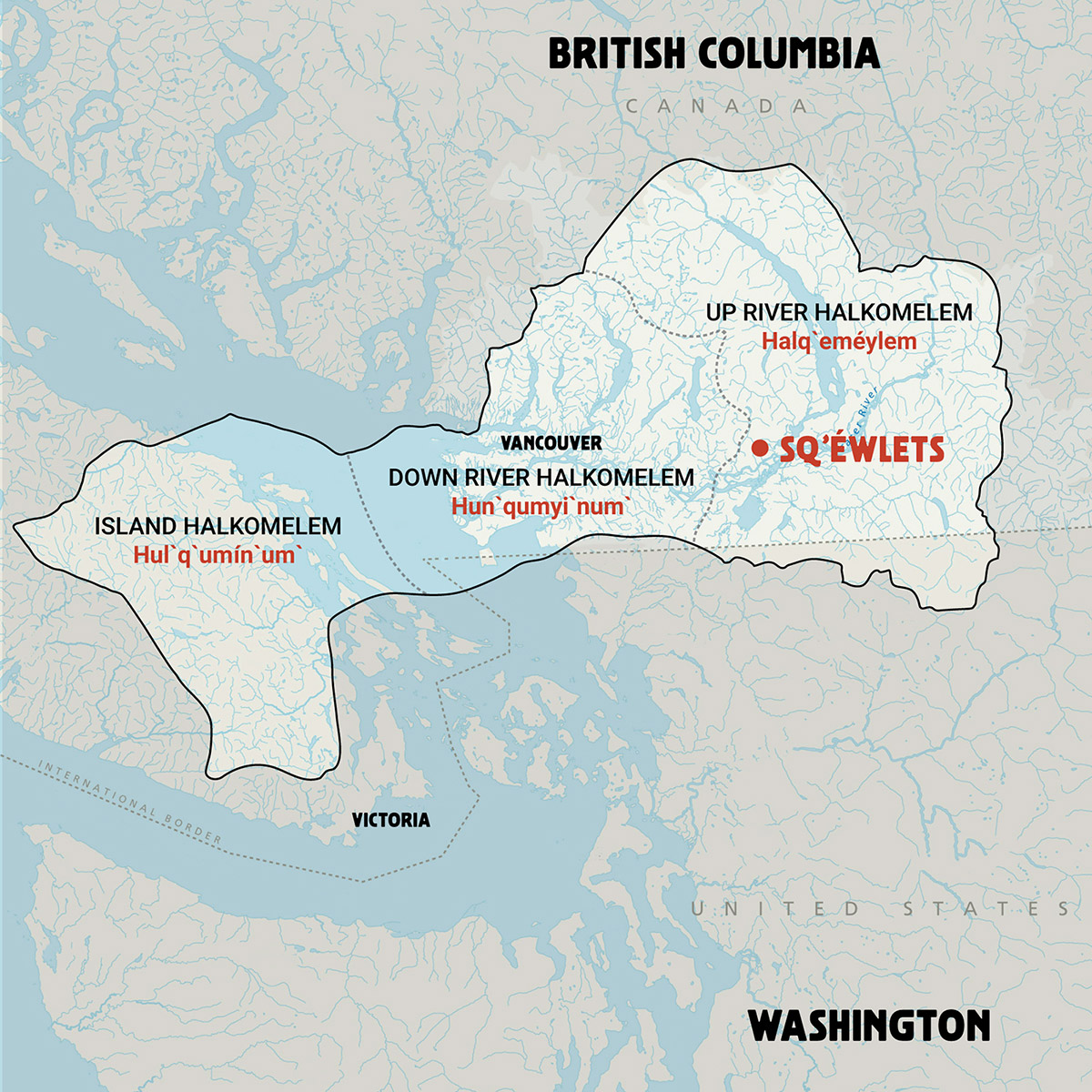 British Columbia - Canada
Vancouver
Victoria
Sq'éwlets
Island Halkomelem - Hul̓q̓umín̓um̓
Down River Halkomelem - Hun'qumi'num
Up River Halkomelem - Halq̓eméylem
Washington - United States
Our Coast Salish relations (relatives) speak two other dialects. Hun'qumi'num is spoken by Coast Salish communities in the Fraser Delta and Lower Mainland, in and around Vancouver, British Columbia. Hul̓q̓umín̓um̓ is the Island dialect. It is spoken by communities on southeast Vancouver Island. These dialects are closely related and our people could always understand each other when we met, traded, visited, fished and feasted together. Our languages are spoken less today but we are working hard to teach our languages to our young people within our Stó:lō schools.
Two other languages are used on this website. These are the national languages of Canada, English and French. Our Halq'eméylem language is used throughout the text. We created a glossary of all the Halq'eméylem words you see throughout the website, including the correct pronunciation, and a key to the Stó:lō Writing System for Halq̓eméylem. You can find these Language Resources here.