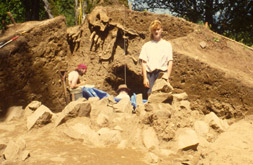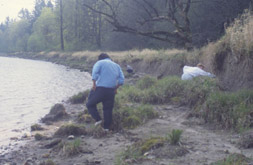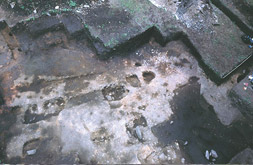 The work at Sq'éwlets included four main parts.
Mapping: Students learned how to make detailed maps of the Qithyil site. Their maps showed the locations of earthen ancestor mounds and stone ancestor cairns. These were part of the ancient cemetery on site. They also mapped the imprints of ancient plank houses visible along the flats beside the Harrison River.
Ancestor mounds: When we started the work in 1992, we asked the archaeologists to carefully dig small sections in two of the largest ancestor mounds. They discovered that these were part of a large ancient cemetery. In the years that followed our team found and mapped dozens more ancestor mounds and ancestor cairns in the hillsides above the Harrison River.
Wet Site: When the river was low, archaeologists used special methods to remove ancestral belongings eroding from mud flats along the banks. They discovered delicate baskets, netting, rope, and other objects made of wood and plant fibres.
Houses: Over four summer field seasons, archaeologists and community members dug what remained of our ancient plank houses (also known as longhouses). We exposed floors, fireplaces, benches, and storage pits. We discovered the pattern of the main house posts. We collected thousands of household belongings and food remains left behind by our ancestors.
HISTORY OF THE QITHYIL SITE
Archaeologists helped our community determine when and for how long our ancestors lived at Qithyil Our ancestors built the first few small cedar plank houses about 3,000 years ago, about the same time Egyptian pyramids were built. Around 2,200 years ago, they built much larger multi-family plank houses. These houses looked a lot like the longhouses still in use today across Stó:lõ territory. Our ancestors lived in this village for over 1,000 years.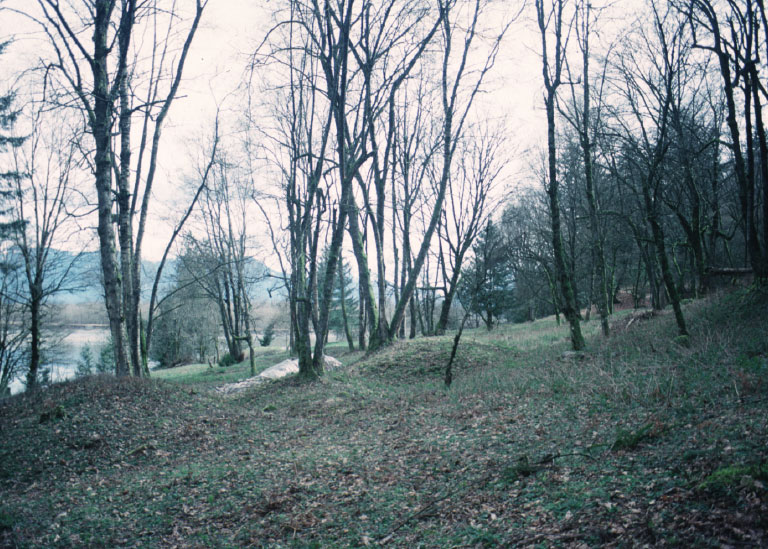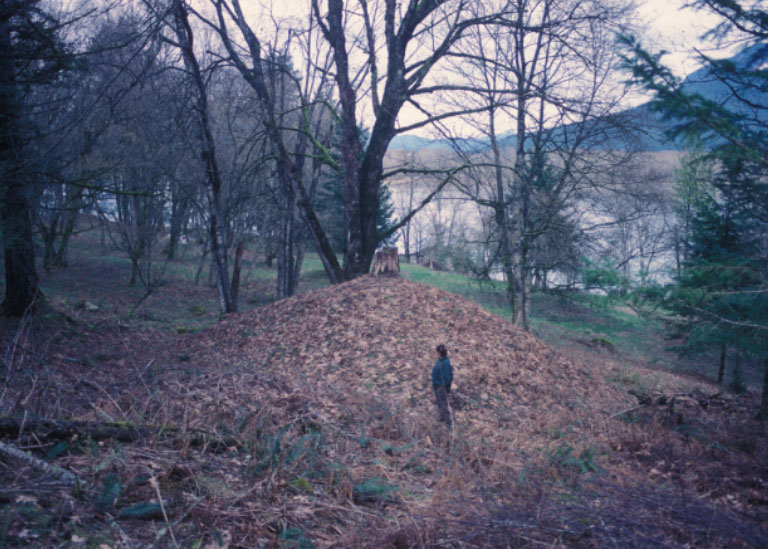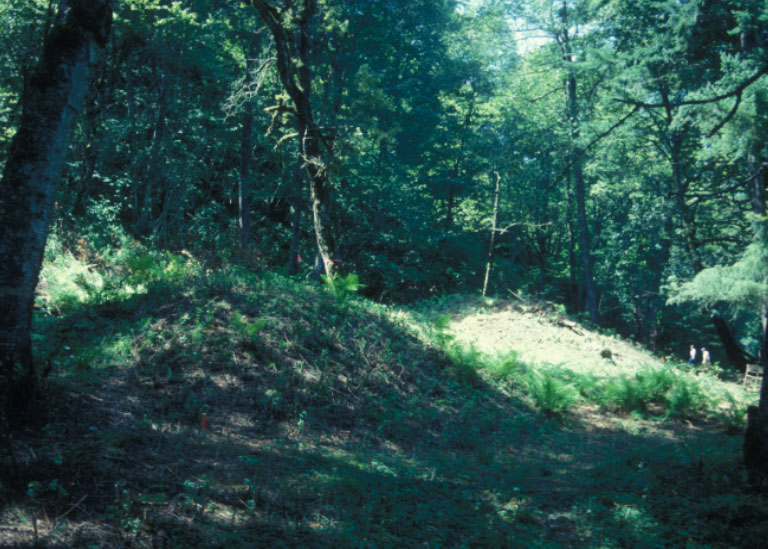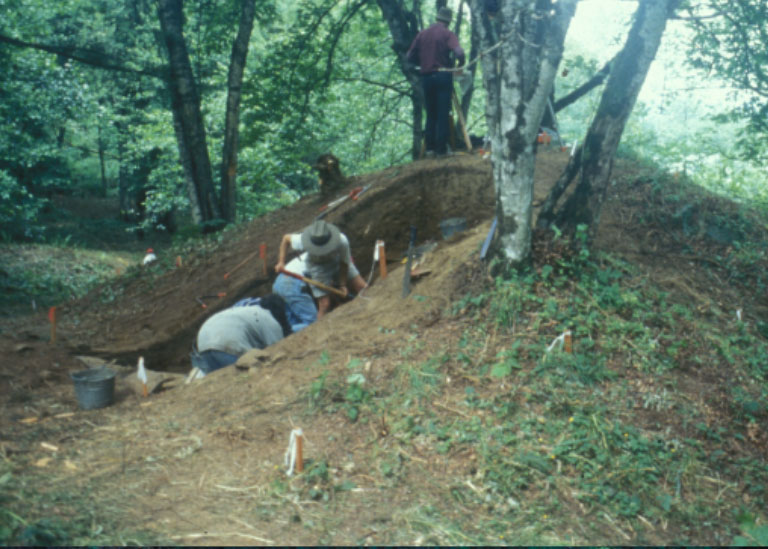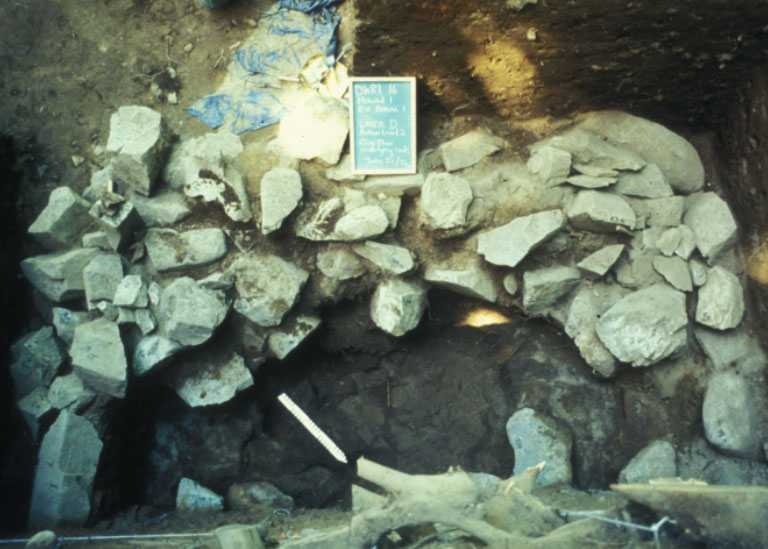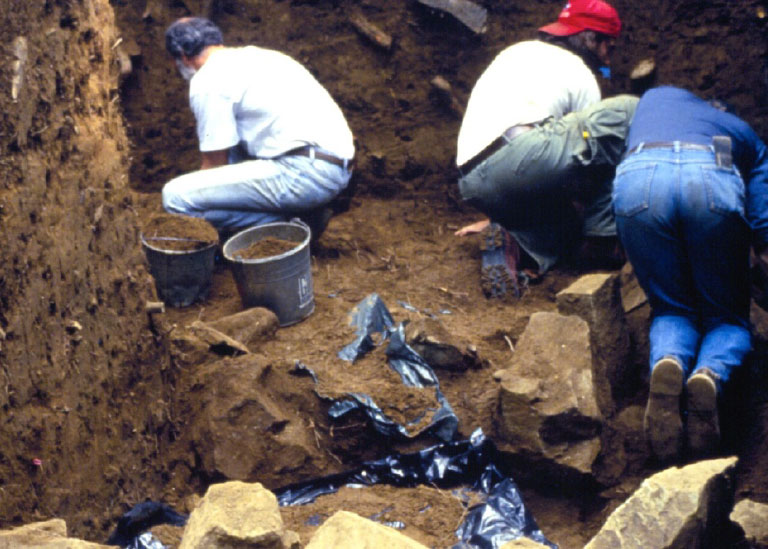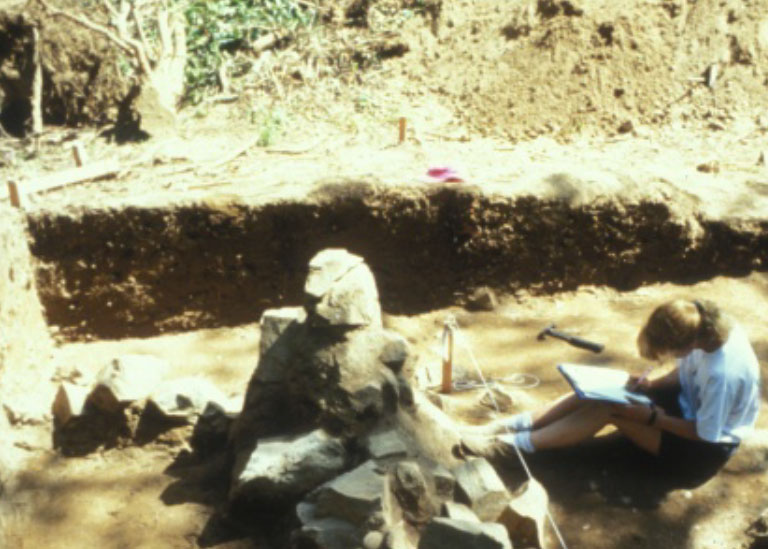 About 1,500 years ago, parts of the village were being used as a cemetery. Our ancient Sq'éwlets relations built earthen mounds and rock cairns to honour and protect their dead. We call these ancestor mounds and ancestor cairns. The Qithyil villagers no longer lived full time on the site but came for the late summer to fish salmon and harvest plants. The building of ancestor mounds and cairns stopped about 1,000 years ago on site.
The site was still used as a spiritual place. A newspaper article published in 1859 in Victoria describes the cemetery of the Sq'éwlets. "Skaholets" located at the mouth of the Harrison River was "...adorned with apparently full-sized figures of the departed braves, sculptured in wood, and highly coloured". Our people remembered that in the early 1900s the area was used as a cemetery where the dead were placed in boxes in trees. By the mid to late 20th century, the Sq'éwlets community knew Qithyil was a special and spiritual place, but until the archaeology work, no one remembered fully what was on the site and how long their ancestors had lived there.